Wednesday 4th February: 11.00 - 12.00 GMT
Blue Prism's Head of Public Sector for (UK & Ireland) Philip Sheen, joins Kate Forbes MSP, Cabinet Secretary for Finance, Scottish Government to discuss how Scotland can leverage all sectors of society including the public, private and third sectors in order to become a world leader in the development and deployment of AI solutions.
With over 15 years' experience of engaging with the UK Public Sector across IT, Telco and Consulting services; Philip is passionate about what Blue Prism has to offer and how the UK Public Sector can engage with Blue Prism to optimize their way of working. He is focused on driving savings from across the Public Sector, enabling organizations to deliver the best outcomes possible, whilst putting people at the heart of the intelligent automation agenda.


---
Speakers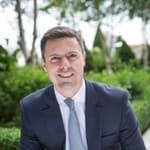 Philip Sheen
Head of Public Sector, Blue Prism (UK & Ireland)