Is your admissions team ready to deal with the post-Covid cohort?
Following an unprecedented recruiting season, admissions teams are wondering how they can reach future students in a more effective, efficient and personalized way. By harnessing technology, universities can create a recruiting experience that speaks to the unique needs of students, as well as freeing up staff, increasing productivity and reducing errors.

Jonny Bartrum leads the Higher Education engagement for Blue Prism having spent 5 years working with the Public Sector. Jonny has worked across Consultancy and Talent Acquisition, before moving across into Strategic Sales. He's a strong believer that technology has a central role to support the future of Higher Education. Jonny sees Blue Prism's Intelligent Automation platform as tool for Universities to free up the capacity of their workforce to improve the delivery of services for staff and students.
Join us for an in-depth look at the role of automation and smart solutions in university admissions.
---
Speakers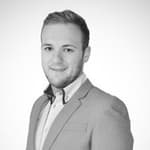 Jonny Bartrum
Strategic Account Development, Blue Prism