Solace Leadership Forum
Blue Prism are proud to announce their sponsorship and participation at the Solace Leadership Forum taking place on the 25th March, 2021.

The leadership forum takes an exciting look at how leading executives have fared during the pandemic. Join our very own James Mitchell, Global SVP People, for a candid conversation on how he has managed his own leadership style through the pandemic. This is an inside look at how today's business leaders approach their everyday work and the qualities required when a world-wide event such as the pandemic takes place. Join James for his enlightening perspectives, an inside track on what has he learnt about himself and the things he would change if he could rewind the clock.
---
Speakers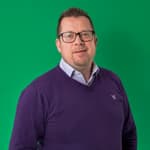 James Mitchell
Global SVP People