Originally published on Expert System Blog.
While Robotic Process Automation (RPA) has exceeded market predictions, Artificial Intelligence (AI) continues to drive greater value and, according to 2019 predictions from Forrester, automation technologies including RPA and AI are becoming a strategic investment in the enterprise world.
In the four primary areas where AI and RPA are quickly progressing (Figure 1), the ability to capture greater insight from unstructured data is at center stage in making robots more intelligent.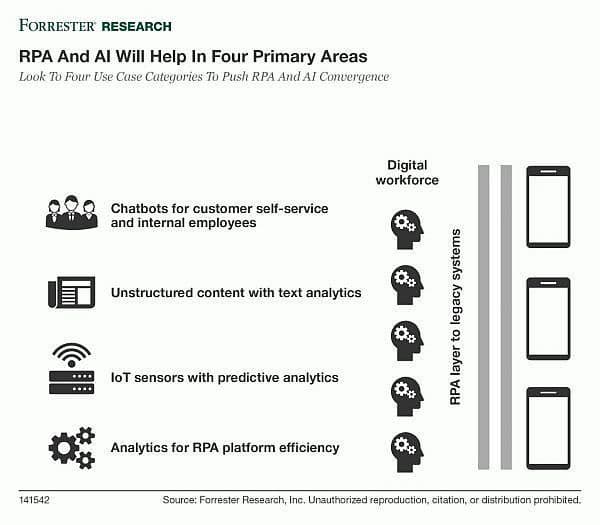 Figure 1. Forrester Research, Inc "Look to Four Use Cases Categories to Push RPA and AI Convergence. Text Analytics Leads the Way."
Why is unstructured data so important for intelligent process automation?
With 60% of global data and analytics decision makers saying that their company is sitting on 100 or more terabytes of unstructured data, there is no surprise that organizations are looking for proven solutions to accelerate the use of unstructured information to unleash the full potential of intelligent RPA.
To close the process gap, the main focus remains on analytics (Figure 2), where nearly half of organizations will use a combination of AI and automation to create a new digital workforce.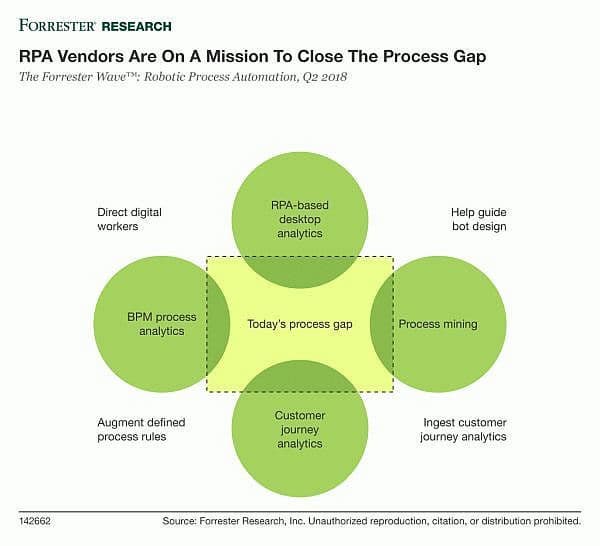 Figure 2
Just think about the following scenarios that may impact the use of unstructured data while building an RPA process:
When you need to extract qualified unstructured information depending on the context from documents that are required
When you need to classify documents against specific customer taxonomies and behave accordingly
When understanding the content of documents is relevant
When you need to apply reasoning before extracting information
When you need to also discover relations linked to the data you extract to be used in the process
In all of the above scenarios, the collaboration between AI and RPA extends and improves the reach of intelligent automation by accelerating the use of unstructured information. AI makes all relevant data immediately useful and actionable in RPA. It analyzes, categorizes and extracts relevant information trapped in unstructured data (such as text fields of various business documents, purchase orders, invoices, emails, survey reports, forms, etc.) to organize it into clean files for RPA.
AI and RPA: a match made in heaven
AI is the perfect match for RPA to analyze, categorize and extract unstructured data to make it functional to improve the output of complex, even more mission-critical intelligent RPA workflows. At the same time, RPA is the ideal complement to enable the adoption of cognitive capabilities at scale.
As a result, companies can benefit from both technologies by using an all-in-one platform to automate end-to-end processes and easily exploit the value of intelligence functionalities.

The integration of Expert System AI capabilities into Blue Prism RPA platform delivers improved labor efficiency and productivity while accomplishing higher levels of accuracy in unstructured data access, extending business automation to new strategic areas by automating tasks that once were reserved only for humans.
To learn more please register for our June 26th webinar with Forrester and Expert System: https://attendee.gotowebinar.com/register/1901684924170973707?source=Blue+Prism