This week I took part in the Blue Prism Café with Asheesh Biyala, RPA Program Lead at H&R Block, to discuss how a world leader in tax preparation employs connected robotic process automation (RPA) across its operations. This blog will cover the company's automation journey, how it now better manages and smooths out seasonal work peaks, how it's generating productivity gains, and the key lessons learned from utilizing a Digital Workforce - as part of its overall team.
Taxing peaks
Operating from over 12,000 retail offices worldwide, H&R Block's expert tax professionals file more than 20 million tax returns every year, the majority of which comes from the US market. Other financial products include helping clients with an advance line of credit, or obtaining a tax refund in advance.
One of the biggest challenges facing H&R Block is managing work volume during tax season peaks - between January and April. This busy period creates significant demands on H&R Block's resources that include over 70,000 tax professionals, who are continually stretched to maximum capacity – when completing tax returns, processing claims and refunding advances. The company needed to find the most efficient ways to process large amounts of incoming paperwork and license renewals - as well as processing and outputting financial data and call-center email responses.
Peak smoothing with RPA
To address these seasonal, operational spikes, H&R Block started its process transformation journey in 2017 and identified RPA as one of the key tools to enable this. The company initially used on premise, desktop automation, but then swiftly moved away from this limiting environment to Blue Prism's more flexible, connected-RPA - with cognitive technologies - to deliver greater scale, performance and better results.
With the crucial backing of senior executive sponsors, the company set up a Center of Excellence (COE). Operating as a federated model, the COE consists of a centralized group of mixed skilled RPA specialists – with clearly defined segregation of duties, but with capabilities shared out among the company's business units. By implementing a connected Blue Prism Digital Workforce of software robots has allowed H&R Block to automate 14 end-to-end processes - across finance, back office and customer service functions.
The Digital Workers operate in tandem with optical character recognition technology by Microsoft Cognitive Services to manage 'preseason' paper-based, tasks that include; process license renewals and continuing education credits. Tax season activities that include checks for claims processing and fraud prevention are also managed by Digital Workers, with suspicious cards automatically deactivated – while only the more complex tasks are passed to human staff for completion. Post-season 'off-boarding' activities, that include employee badge deactivation, are performed by Digital Workers too.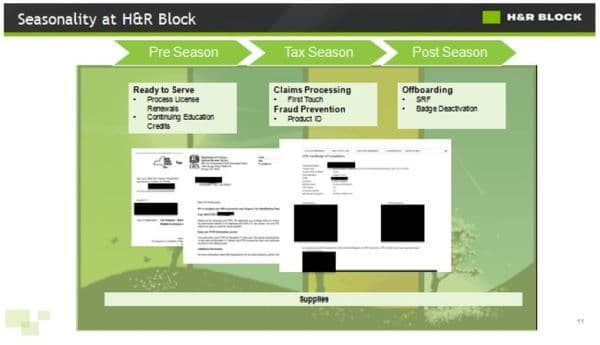 H&R Block's process owners and executives now have a deeper understanding of the work performed by the digital workforce on a daily, weekly and fiscal year basis. This allows them to react to dynamic workload changes and make quick decisions regarding human labor adjustments and budget allocation. Using the capacity of the Digital Workers, the company can now swiftly reallocate support to the areas of the business that most need assistance - transforming the company's ability to streamline its busy season.
The company has also been using RPA within its call-centre to send out automated emails. For each daily or weekly batch of approximately 10,000 emails, the Digital Worker only takes 5-8 minutes to send them out. This has led to significant resource savings, not only in email distribution - but also in reduced call volume for H&R Block's agents.
H&R Block can also easily view the performance of its RPA activities, via reports fed by business intelligence data directly from Digital Workers into Microsoft's Power BI. Highlighted performance metrics include; item volumes, case times and number of system exceptions – which all indicate that the company is now delivering significantly better SLAs with RPA. This data is also used to address any gaps in processes and those issues that may previously have slipped through the cracks.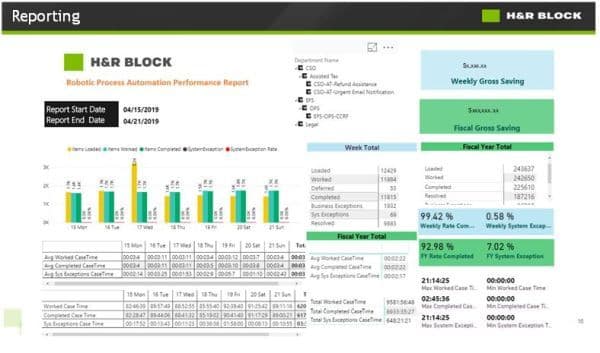 Moving forward
To deal with new, more complex challenges, H&R Block is currently examining different types of cognitive skills to build out its Digital Workforce. For example, to make better sense of unstructured email data, and understand its context, Google's natural language processing is being considered. This would enable the company to move beyond traditional emails and swiftly provide clients with meaningful updates via other, more convenient, channels.
Key lessons learned
When asked about lessons learnt, Asheesh cited five key actions that he believes will make an RPA journey easier for others:
Build a partnership with the IT team at the start of the RPA initiative to ensure good governance, security and scalability
Get higher level executive support for RPA – which helps to sustain smooth progress.
Critically examine each potential use case for RPA – only selecting ones that are high value, high volume, people-intensive and operate in a stable system environment.
While RPA solves many problems, encourage people to explore other, IT-related improvement options first - before providing assistance.
Cafés like these, where you share knowledge with your peers in the RPA space, are really valuable – so check out Blue Prism's new community platform; https://community.blueprism.com/home