This month we had the pleasure of hosting our Blue Prism Café with Alec Sutherland, Partner & Automation Technical Lead (RPA & AI) at John Lewis. He discussed how the leading UK retailer uses connected-robotic process automation (RPA) to address unique retail challenges that include fraud detection and price matching. This blog reveals how John Lewis meets increasing, company-wide demand for intelligent automation, reduces adoption barriers and achieves continual improvement.
Moving forward with connected-RPA
The John Lewis Partnership is the UK's largest employee-owned business and the parent company of two cherished retail brands: John Lewis & Partners, for high-end retail products, and Waitrose & Partners, for premium groceries. Faced with growing competition, John Lewis wants to maximize operational efficiencies and generate more productivity which will liberate staff from performing low value tasks and allow them to focus on further improving customer service.
To meet these challenges, John Lewis turned to Blue Prism's connected-RPA, a highly scalable platform that provides automated Digital Workers to emulate repetitive and lower-value tasks performed by humans in enterprise environments. Seeking to gain universal stakeholder acceptance, John Lewis communicated a vision of connected-RPA bringing "better jobs, better performance and better pay". The creation of a Center of Excellence (CoE) swiftly followed, consisting of developers with a blended set of IT skills considered best for managing delivery of connected-RPA.
John Lewis has quickly scaled its program to over 40 automated business processes, using 60 Digital Workers. These workers operate across multiple lines of business including contact center, online, merchandising and buying operations, Waitrose's supply chain, group human resources and finance operations. So far, these automation activities have generated an impressive £5 million in savings.
Key use cases
Fraud Detection
The global retail industry suffers major annual loses due to fraud, and John Lewis has found a way to address the issue by automating its "held order" process to investigate potential threats. If there's a recommendation to challenge the order, a case is created in Salesforce where a Blue Prism Digital Worker performs a series of cross-checks on the order via various internal and external systems. This activity is performed before cancelling, proceeding or referring the order for human participation.
These fraud prevention measures are having a positive impact on customer satisfaction, trust and commitment to the brand, while liberating staff to focus on more valuable detection tasks. During the Christmas 2018 Black Friday week, 10 Digital Workers performed forensic fraud checks on approximately 20,000 orders, which has saved approximately 100 days of equivalent human resource.
Price Match
To ensure John Lewis offers the most competitive prices, it regularly benchmarks its products against others in the market so customers can make a price match request. The pre and post-sale process is now entirely managed by Digital Workers. If the customer finds a product at a lower price, he or she completes the web form on the John Lewis & Partners website. A Salesforce case is created and reviewed using information from a third party, product price comparison provider. The customer is emailed back a response of the case outcome and, after checking the price guarantee, the case is closed.
Not surprisingly, these price match requests increase during the most busy retail periods and Digital Workers are ready to assist the business. During the Christmas 2018 Black Friday week, five Digital Workers processed nearly 15,000 never knowingly undersold queries, which saved 62 days of equivalent human resource.
Managing rapid scale
With growing, company-wide, desire for automation, John Lewis' team found it harder to meet demand. Alec explains, "as we scaled our RPA service by working with more departments and automating more business processes, we faced increasing business requirements for operational support and management information. The unstructured nature of these complex requests and time constraints impacted delivery timescales which made the situation unsustainable."
To address these challenges, John Lewis created an innovative application by integrating Splunk and Slack into its connected-RPA ecosystem. This provides defined communication channels allowing developers to focus on development in Blue Prism and the ability for the wider business to self-serve on operations and management information. The platform also enables analytics to be performed on automated business processes, which provides more opportunities for their continuous improvement. These benefits have enabled the automation team to scale and expand its activities to meet the growing business appetite.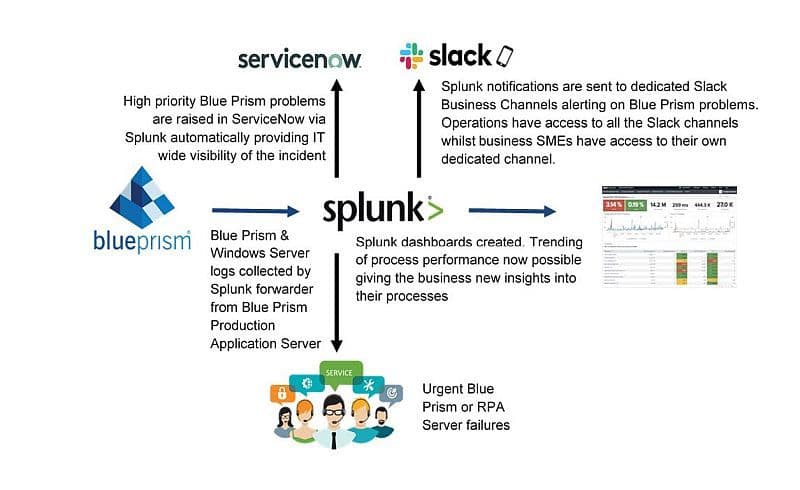 Key lessons learned
When asked about technical lessons learned, Alec cited three key considerations that will make a connected-RPA journey easier for others:
Prioritize critical mass in your automation Center of Excellence, as well as experience and technical capability
I believe that DevOps values and principles align with connected-RPA development much better than with Agile software development
Avoid UAT, pilot, hypercare phases - these are unnecessary, instead optimize flow by reducing phases in the development lifecycle and minimize hand-offs and sign-offs
To read more about John Lewis' intelligent automation journey, you can download a full case study here.