Following strong results in analyst reports throughout 2021, once again, we are pleased to announce that Blue Prism has been positioned as a global leader in the robotic process automation (RPA) market. This time, the title was received as part of the "Intelligent Automation Platforms NEAT Report for 2021" conducted by NelsonHall, a leading analyst firm dedicated to helping organizations understand the 'art of the possible' in digital operations transformation.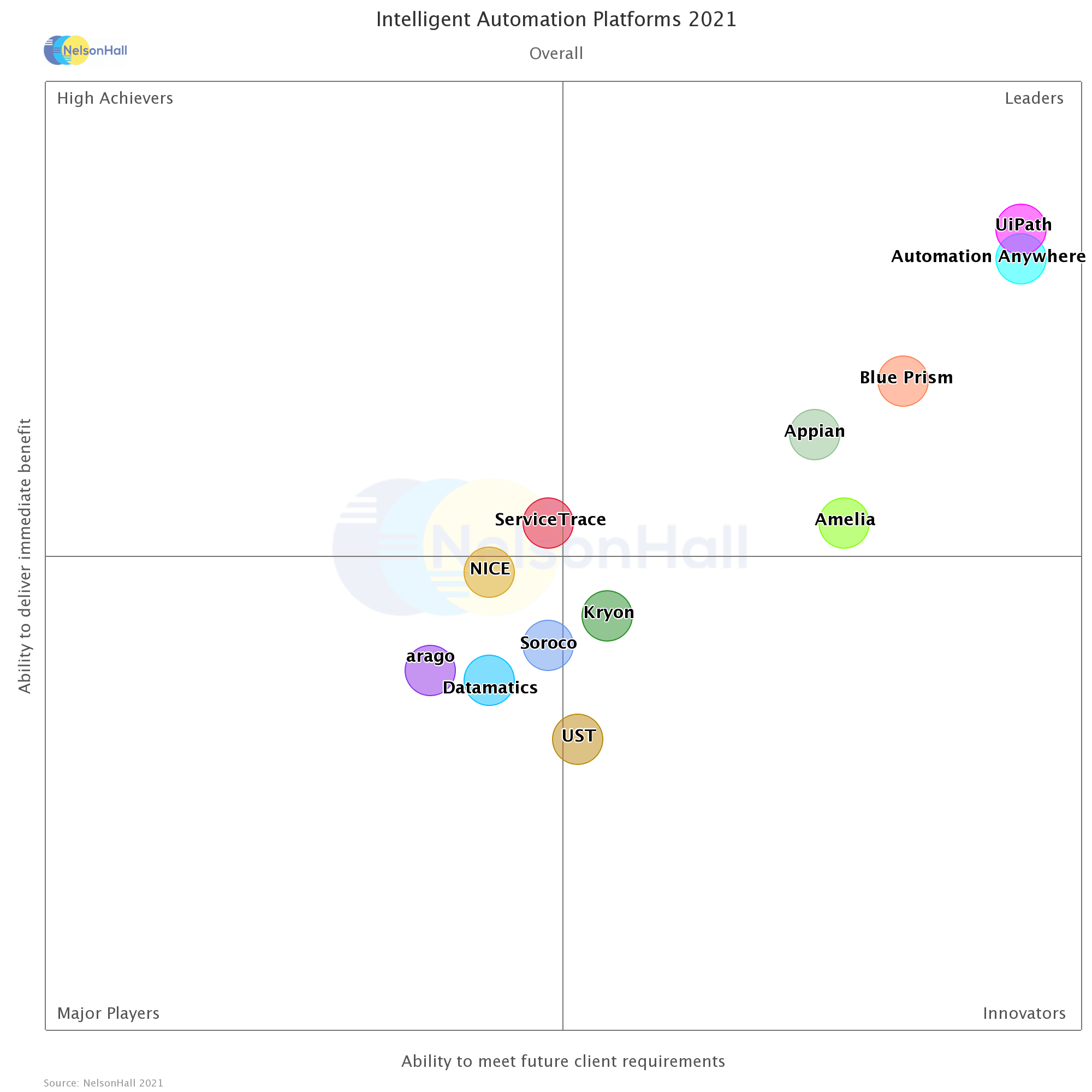 With analysts in the U.S., U.K., and Continental Europe, NelsonHall provides buy-side organizations with detailed, critical information on markets and vendors (including NEAT assessments) that helps them make fast and highly informed sourcing decisions. The analyst firm's research is based on rigorous, primary research and is widely respected for the quality, depth, and insight of its analysis.
It's no secret that the robotic process automation market remains the fastest-growing software market, as intelligent automation continues to be chosen as one of the most important choices for improving competitive business advantage via digital transformation. As vendors raise the bar in terms of their viability, relevance, growth, revenue, innovation, and vision for RPA software offerings, it's clear that competition has never been greater.
We were acknowledged for our effective use of indirect sales channels from global resellers such as EY, PwC, and Deloitte; our scalability credentials versus competitors; our newly implemented and progressive consumption-based pricing model; our commitment to cloud development; and the retention of our solid client base.
The key tenets of the Blue Prism strategy are leveraging the cloud for growth; extending the boundaries of automation through our partner ecosystem; reducing barriers to adoption through our education and training program; continuing to improve client relationships; and the doubling down of our product investment.
Holding a strong position in the market and with many exciting developments underway for 2021 and 2022, there is no doubt it is an exciting time to be involved with Blue Prism.
NelsonHall identified Blue Prism as a Leader in Intelligent Automation Platforms due to its core intelligent automation platform capabilities, in particular its strong bot orchestration and management capability allowing high-scaled bot deployments. Organizations using the Blue Prism platform highly rated the ease of development in the platform, and alongside the introduction of consumption-based pricing, a high estimated return on investment. With its long-standing position as one of the leaders in the market, and the scaling of its product development, NelsonHall expects Blue Prism to be included in any prospective client's short list."
Mike Smart Senior Analyst with NelsonHall's Digital Transformation Technologies & Services practice