Our Blue Prism Pulse events are here to give you the full lowdown on intelligent automation in just 90 minutes – keeping you up to speed with all the latest Blue Prism news and insights.
This series of eight virtual events will bring you important insights around the Blue Prism product, the benefits of a Blue Prism digital workforce, and the value of putting digital at the heart of your strategy, process and customer interactions.
What are our Blue Prism Pulse events all about?
Our Pulse events show you what the true impact of intelligent automation could be for your people and your business, by showcasing the real-world benefits of going digital.
As an organization, you might be taking your first tentative steps toward automation and using a Blue Prism Digital Workforce. Or you may be an existing Blue Prism customer looking to scale up your automated processes or your customer operations to meet new business goals.
Wherever you are in the journey, there's always value in learning more and getting the most out of your automation technology. We'll be talking to experienced Blue Prism partners, and their clients, to see how having a Digital Workforce has enhanced and streamlined their operational processes – so you can learn and be inspired by their stories.
The four cornerstones of intelligent automation
When you take part in a Pulse event, you'll gain deep insights and learn best practices for using your Blue Prism Digital Workforce. We'll also explain how Blue Prism brings you the four foundational cornerstones of intelligent automation.
Our four cornerstones mean that our Digital Workforce is:
Scalable – Blue Prism scales to meet the needs of your business, so you have a digital workforce that grows alongside you.
Secure – Full encryption protects your digital workforce. And there's a complete audit log of every action your digital workers carry out
Smart – Blue Prism offers intelligent automation, so you have the benefits of artificial intelligence and a wealth of smart tools.
Successful – Intelligent automation boosts the productivity of your people. And this translates into growth, profitability and long-term success!
With a Blue Prism Digital Workforce that's scalable, secure, smart and successful, you can be confident that your digital strategy will cope with any of the many opportunities and challenges faced by businesses and non-profit organizations in 2020.
By becoming a regular member of the Pulse community, you'll no longer feel like you're pushing the intelligent automation agenda alone. These events are a chance to connect with your peers, hear from other Blue Prism users and keep your finger on the pulse – after all, that's where the Pulse name came from!
Industry insights to drive your recovery
Our Pulse series will kick off this September, with eight separate events that focus on the merits of Blue Prism's four cornerstones, and the specific benefits for your industry or sector.
Efficiency, cost-savings and enhanced productivity are so important in the current climate, with many sectors looking for ways to drive recovery following lock down and the negative business impacts of the Covid-19 pandemic. If your organization is looking to embrace the 'new normal' and diversify its operations, Pulse gives you all the practical insights you need to drive your automation forward.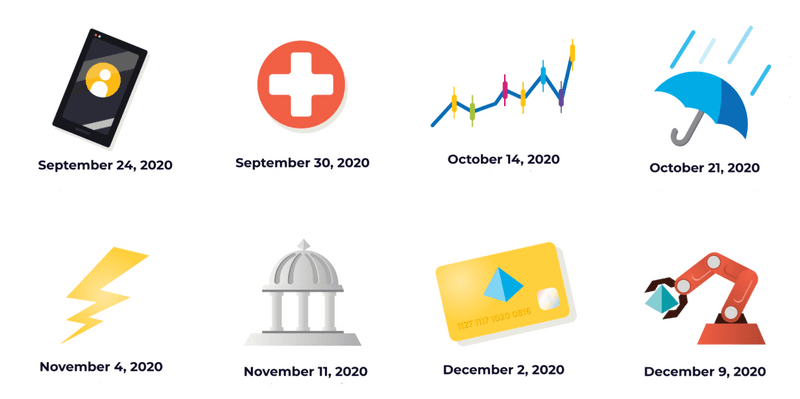 Here are the dates and industry themes for the forthcoming autumn/winter Pulse series:
Smart:
Scalable:

Secure:

Successful:

Sign up for the Pulse event series
If you're looking to get more from Blue Prism and intelligent automation, we'd love to have you join the conversation at the next Pulse event. We're very proud of the Blue Prism ecosystem and the Pulse community, so now's the perfect time to dive in.
Sign up now, secure your place and become part of the ever-growing Pulse community.