Blue Prism World London 2019 is officially over for another year – and what an amazing couple of days we've had at ExCeL London in the heart of Docklands.
We've seen well over 2,000 people pass through the doors of the show, 20+ different partners and exhibitors in our packed Partner Village and a huge range of educational presentations, customer track sessions and networking opportunities for everyone who attended.
The cream of RPA thought leadership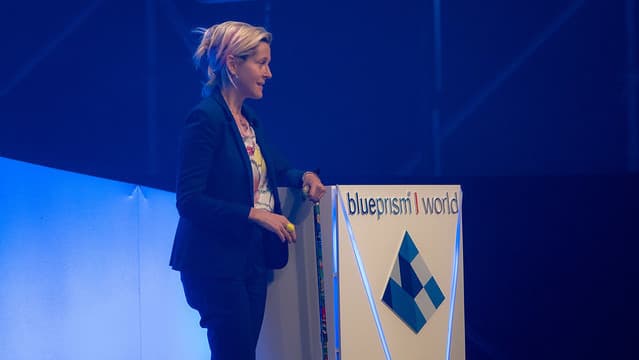 We've had some of the world's leading automation and digital transformation experts gracing the stage here at this year's Blue Prism World.
Closing this year's show on a high
Derek Miers, Transformational Change Strategist at Gartner, was our closing keynote speaker, sharing his expertise and insights into digital transformation and the impact of business architecture on your automation strategy.
"The world has been automated. And, let's be honest, the future is automated. And if you don't automate then someone will come along and eat your lunch!"
"The hard part is getting your colleagues to rebuild the future, rather than having to be pulled kicking and screaming into it. It's a question of what you're going to exploit, what you're going to create. So let's go forward. You have to be an inherently agile organization. You're chaining yourself to the past if you don't start thinking about this."
"The question really is 'Are you really ready for this ride?'. If it can be automated, then, as a rule of thumb, it should be automated. Otherwise some upstart will come along and do it for you."
Connect, Discover or Create
We ran nine different customer track session over the course of Day Two – all aimed at giving attendees the practical knowledge and skills needed to take their automation to the next level, and bring the power of connected-RPA to play on their digital strategy.
Attendees got to choose from either Connect, Discover or Create for each session, allowing them to focus on the track sessions that added the most value for them and their team.
Connect – this track focused towards business leaders, looking at the ideal recipe for digital leadership when implementing your Digital Workforce.
Discover – this track took an in depth look at the Blue Prism product, how we support your digital projects and our product's capabilities going forward.
Create – this track provided more hands-on practical advice regarding product implementation and how to put Intelligent Automation to work in your business.
It was amazing to see these sessions so well attended and there was a definite buzz across all three tracks, especially around the customer stories from our valued Blue Prism Customers.
Congratulations to our competition winners
Social media has played a big part in this year's show, and we've been blown away by your tweets, photos and comments from across the two days of the event. It's been great to see your messages flashing up on our 'Twitter Wall' in the Partner Village.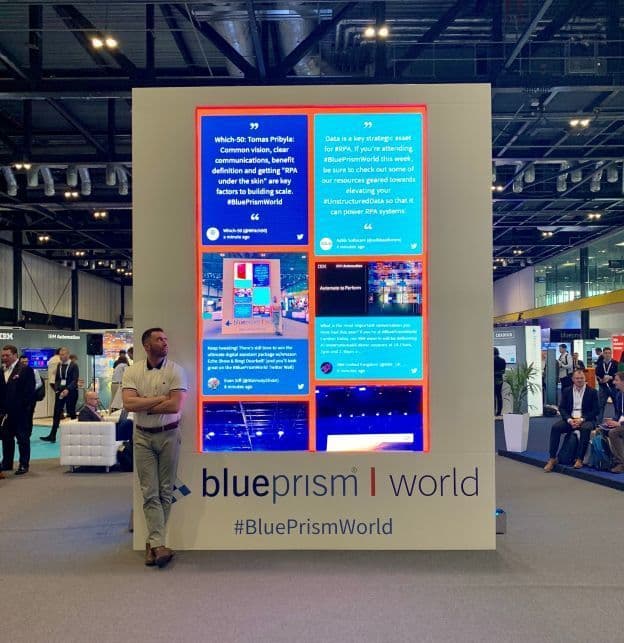 Thank you for attending!
Blue Prism World is all about sharing ideas and connecting with people – and we've been extremely pleased to see the Partner Village and meeting points so busy over the two days.
There's been a wealth of opportunities to explore the exhibitor stands, see product demos and take part in our very popular customer track sessions. And we've enjoyed bringing you 2019's bigger and better conference at the prestigious London ExCeL centre – the bar has been set high for our next Blue Prism World in Orlando on May 22nd-23rd.
We hope you've come away from the show with a renewed sense of engagement for connected-RPA, Intelligent Automation and the digital future of your organization.