Welcome to our first every full-scale online conference! Blue Prism World Virtual is now live and the virtual doors are open to the thousands of people who registered for this innovative event.
We've been planning and organizing this virtual conference for months now, as our online replacement for Blue Prism's usual real-world annual robotic process automation (RPA) show. Interest has been so high that we've created a second day, with two full days of RPA excellence spread across Tuesday June 23 and Wednesday June 24. And we're very excited to welcome you all to our virtual event – you'll be amazed what's in store once you log in.
'Learn, Connect and Innovate' is our motto for 2020. So, find yourself the best seat in the house and settle in for plenty of RPA insights, online networking and news on the latest RPA updates.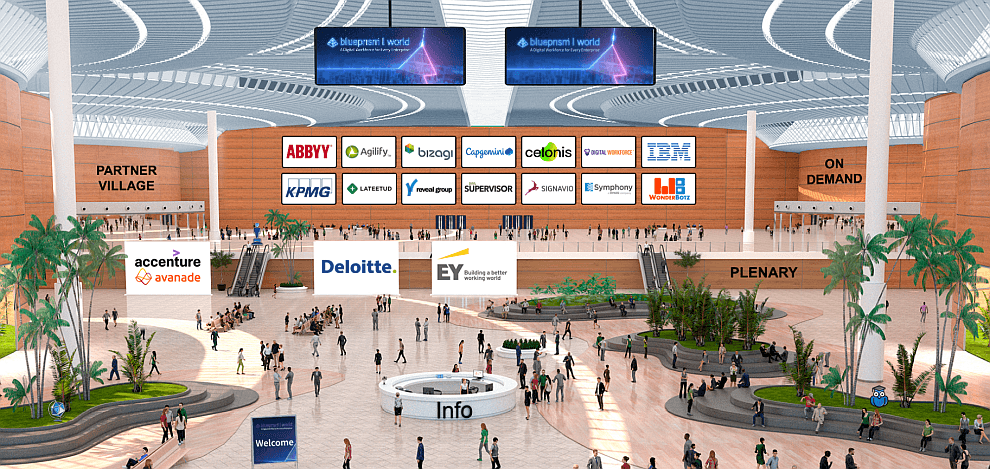 Explore the virtual show
Once logged in, you'll find yourself in our virtual conference hall, with options to explore our Blue Prism keynote sessions, our customer track sessions and a host of different exhibitors.
Browse the agenda and plan out your day, or just explore the event and see where you end up. There are sessions, chat rooms and Blue Prism sponsors dotted all around the virtual space, with live exhibitor representatives and Blue Prism staff on hand to answer your questions, or help you dive deeper into the world of RPA and Intelligent Automation.
Win prizes through our event day competitions
You'll find hidden icons secreted away around the whole virtual event space. Search out these hidden gems and you can enter our 'Scavenger Hunt'. The attendee with the most icons at the end of the day wins £50 of Amazon vouchers.
There's also our Leaderboard Competition to take part in. You'll be awarded points for each Blue Prism World Virtual location or session you attend, with your score added to our event leaderboard. The leaderboard winner at the end of the day will take home a shiny new iPad Pro, with runners up getting some classy Bose noise-cancelling headphones.
Learn – take part in our sessions
Our world-beating speakers have plenty to tell you about the future of RPA, and how to create the very best digital foundations for your organization.
Dip into the live sessions agenda and you'll find details of our live keynote sessions on the day, with a welcome introduction from Pat Geary, our Chief Evangelist, at 9am GMT+1, and again at 4pm GMT+1 for those of you on the other side of the Atlantic.
We have over 50 different sessions for you to get involved in, with customer track topics including practical ways to implement a Digital Workforce, the benefits of Blue Prism's connected-RPA and the key ways to enhance your digital transformation process through the use of Intelligent Automation and the wider Blue Prism ecosystem.
If you're not around to take part in our live event in real time, the on-demand sessions will also be available to you. These on-demand sessions cover thought leadership and advice regarding RPA across a wide range of industries and sectors, with sessions aimed at CEOs, executives, Heads of IT and operations specialists.
Connect – get chatting with your peers
You'll find the Blue Prism stand in the main virtual hall, so don't forget to pass by and see what's going on across the course of the day.
You can drop into the Blue Prism chatroom and get acquainted with our team, and with the other attendees at the event. Connecting with the other attendees and sponsors is a huge part of our usual real-world conference, and we know the value of catching up, swapping stories and just getting to hear how other organizations are planning out their RPA future.
With this in mind, there are plenty of chat rooms to dip into, allowing you to browse, chat and network, just as if you were really in the room.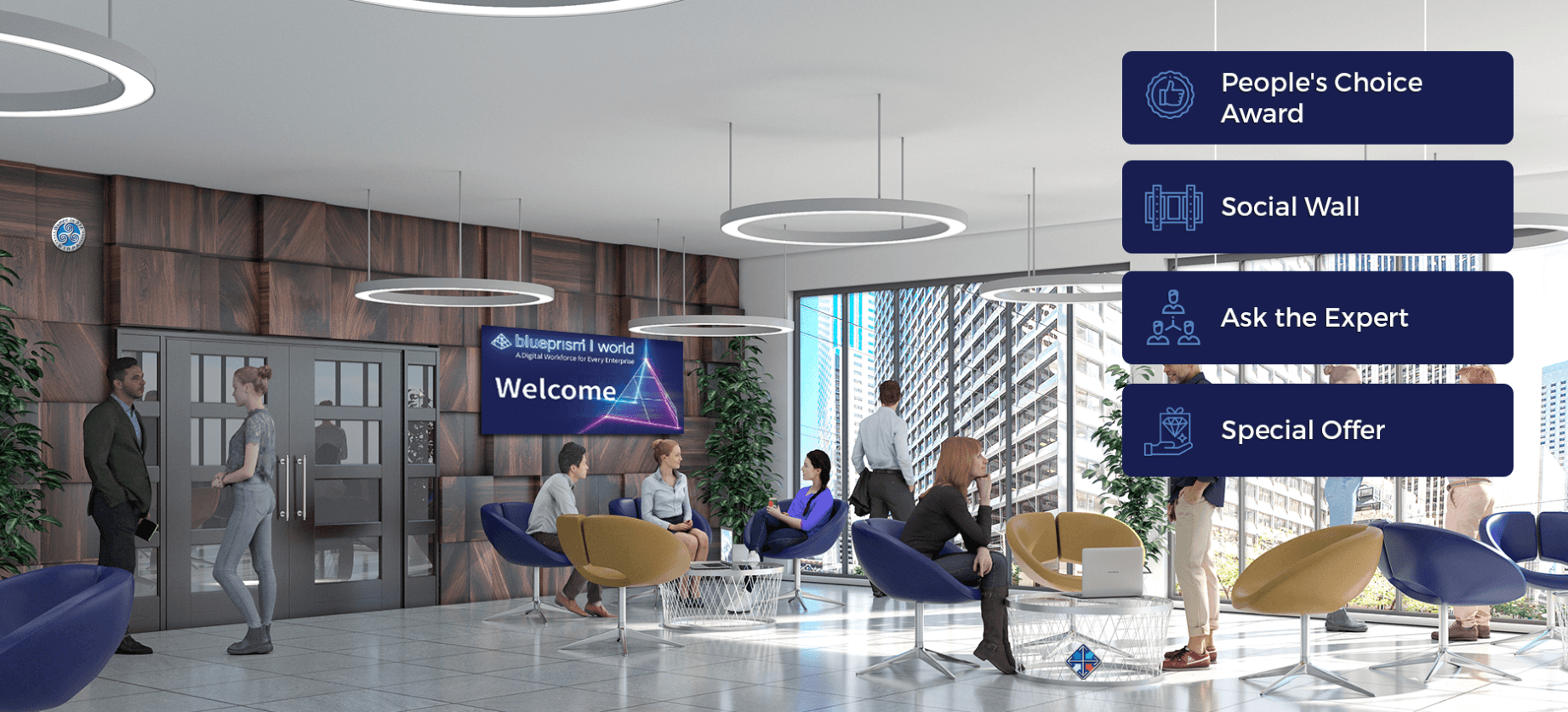 Innovate – explore our Blue Prism sponsors
Our sponsors and Blue Prism partners are an incredibly important part of any Blue Prism World, and that's no different in the virtual space. This year's sponsors all have their own virtual stand to visit, where you can explore their products and services, chat with their people and get to know about how each partner's offering fits into the wider Blue Prism ecosystem.
This year's virtual Diamond Sponsors are:
Accenture/Avanade – the multinational professional services firm
● Deloitte – the global consulting and professional services firm
● EY – the international consulting and business services firm
Our Platinum and Gold sponsors demonstrate the true diversity and range of the ecosystem, giving you the chance to find out more about artificial intelligence (AI), cognitive learning, optical character recognition (OCR) and the many and varied ways that a Digital Workforce can bring efficiency and productivity to your organization's operational procedures.
You'll also find our Blue Prism For Good stand in the main hall, where you can find out more about our key charities for 2020 and can donate to these incredibly worthy causes.
We'll be supporting Doctors Without Borders, Red Cross Australia, Mencap, Plastic Oceans, The Christie and One Laptop Per Child this year, so please donate if you can.
Join the Partner Forum on June 24
For Blue Prism Partners, don't forget to log in for our Partner Forum event on the second day of the virtual conference, on Wednesday June 24.
This is your chance to expand your knowledge of the Blue Prism product, and to learn more about the key strategies needed to grow your automation services effectively. It's also a chance to catch up with other Blue Prism Partners from across the network, reinforcing the importance of these relationships and connections within the wider ecosystem.
Don't forget that the Partner Awards will also close our Partner Forum day, with global awards for the Blue Prism Partners that have done the most to drive the success of RPA.
Enjoy your virtual experience!
At Blue Prism, we're always striving to be at the leading edge of technology. So, running a virtual conference seemed the obvious step in 2020, given the ongoing challenges faced by the events and conference community.
We hope you will enjoy your Blue Prism World Virtual experience, and will come away from your day of online content and communication with a new-found enthusiasm for all things RPA.
We'd love to hear your comments and feedback, so please do let us know how the conference was for you.
Our hope is that we'll see you all in person for Blue Prism World 2021, with a renewed sense of drive and purpose for the future of automation in the 21st century.