Showcasing the Ways Intelligent Digital Workers are Powering Innovation and Digital Transformation Part 2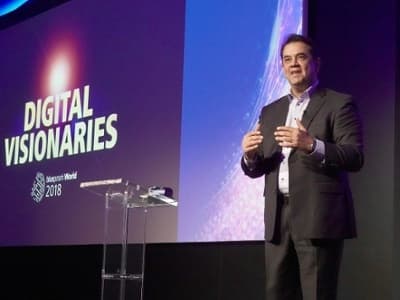 Lynda Gratton, professor at London Business School, and global authority on people, leadership and the future of work, believes that we are entering a period that's even bigger than the industrial revolution driven by technologies including RPA – which promise to create as many jobs as those that will be lost.
Gratton said, "Both routine and non-routine based tasks are already being transformed by RPA. The key challenge is for organizations to re-skill people by utilizing their unique human qualities of empathy and creativity. Ultimately, we must become more thoughtful about shaping the workplace in which people will be working for longer. We must widen their opportunities within a culture of lifelong learning to ensure that RPA brings out the human in humans."
Leslie Willcocks, professor of Technology, Work and Globalization at LSE, is upbeat about the potential of RPA and believes that cognitive automation is the next stage in its evolution. "The promise of RPA is very high. In fact, some companies are experiencing a triple win of shareholder value, customer value and employee value. Although enterprise RPA platforms may seem expensive at first, they are delivering the best long-term outcomes for business. Our recent study confirms this — revealing that Blue Prism's RPA platform is delivering 96 percent total business value for those organizations surveyed. The key here however, is that RPA must be considered for more than cost savings, or its value can be missed." – Leslie Willcocks
Phil Fersht, CEO and chief analyst for HfS Research, highlights how automation is needed for digital disruption to generate a better customer experience.
"We must stop thinking about the future of work—the change, technology and attitude are already here. With digital transformation initiatives, there's a shift from removing headcount to getting more value from staff and RPA is playing a key part in this. In fact, cost reduction isn't a strategy anymore — but value creation is much better – with key RPA drivers that include higher quality operations, greater workforce agility and more actionable data for customer insights. However, organizations need to drive metrics that can better measure this." – Phil Fersht
At the London event, more major brands showcased their RPA use cases—here are some examples:
Jonathan Kidd, head of digital operations and robotics at Bank of Ireland, explains how he's using robotic digital workforce numbering in the hundreds – powered by Blue Prism technology to manage a wide range of processes. These include reducing time and errors associated with credit card account opening, online notice of withdrawal, pin activation and underwriting case preparation. He said, "It isn't about replacing people with robots anymore, or savings – it's about taking the robot out of the person – freeing them to do higher value tasks – to deliver better services that improve the customer journey."
Paul Sharrock, VP BPI and process automation at ADP, asserts that as a company tasked with paying 39 million people worldwide, process automation was a no-brainer and has led to bottom line benefits and additional capacity. Paul shared, "We used Blue Prism's RPA technology to scale an international program quickly, allowing us the time to build out a center of excellence. As a result, we expect to save over 400,000-man hours, each year."
William Hewish, CIO at United Utilities, explains that it's key for RPA to get buy in at board-level and it now plays a key role in their digital strategy—by helping them deliver great customer service. He said, "Using automation delivers many benefits for us like reducing process time—from days to minutes. But the clearest measure of success is being voted number one in our industry for customer service."
Vincent Vloemans, global IT head at Heineken said, "With RPA and AI, we've been able to handle a change in accounting standards 90 percent electronically—without human involvement. This included over 25,000 operational contracts in 40 languages and 17 data fields. By better using process data, is helping us reduce complexity, and improve revenue and compliance too."
And again, our CTO and co-founder David Moss revealed Blue Prism's vision of building out RPA technology that will drive more evolved, intelligent, digital workers designed to augment and assist the skills of human workers – rather than replace them.
Moss said, "We are announcing six new intelligent automation skills for digital workers, which will provide a foundation for true enterprise RPA. These include knowledge and insight, planning and sequencing, visual perception, collaboration, learning and problem solving. These mark a clear line of delineation over desktop-based and other automation tools. By coupling our automation capabilities with the most innovative cognitive and AI technologies on the market, we can augment human workers to achieve more and do more. This intelligent digital workforce is being delivered right now."
Final Thoughts