We kicked off our first Blue Prism Café of 2018 with a discussion around IHG's Robotic Process Automation (RPA) journey. For Derk Weinheimer, Vice President of Cost Efficiency and Continuous Improvement at IHG, and Bill Lloyd, Managed Services Leader at Deloitte, implementing an RPA solution is a "no brainer"
That's because RPA is the lever that provides real value when trying to improve overall efficiency and effectiveness across the business and unlock additional capacity for investment.
After evaluating three platforms, Blue Prism, UiPath & Automation Anywhere a little over a year ago, the IHG team chose Blue Prism and went from start to production in 12 weeks!
"Derk and his team quickly discovered that not all software robots are created equal."
The company chose Blue Prism because it beat out other offerings with true enterprise grade capabilities including security, scalability, governance and overall compliance.
'Trust' in the solution was the primary criteria for selection. Derk and team were interested in something that they could 'trust it works and scales' vs 'hope that it will'. IHG wanted to ensure that their RPA vendor would scale to meet the demands of their business and goals. They looked for trust in a service delivery partner to help them through the entire lifecycle and get them off to the right start.
"There's a lot here to identify what the next wave of opportunities are, understand the ROI and business case around that, get the right buy in and then the tactical aspects of development, testing and delivery all the way through on-going managed service of the automation and so I think trust in your third party and/or in-house service partners is hugely important."
Bill mentioned that it's also about extensibility that you look for in a provider, the ability to do what you want today, but recognizing that a-lot of the focus is around core automation and also picking a vendor able to open up the aperture for future processes, looking at more of the AI, cognitive components, bringing in OCR, various other capabilities that are going to be required as they company grows and scales this program. The Blue Prism & Deloitte partnership delivered expertise on all these criteria.
From Design and Test to Production in Less Than 12 Weeks
As a quick test project IHG selected a simple process within their finance organization for a proof of concept. The test project took about three weeks to design, build, and test the automation. It proved that RPA was a "no brainer" for simplifying processes and realizing efficiencies.
With a strong proof of concept in hand, IHG rapidly moved toward production. The company went from software selection through design, test, and into production in less than 12 weeks, with the support of Deloitte. In parallel to the development of the automations, IHG also put together a framework for longer term governance and management so that the business would be ready to scale RPA more broadly once initial automations were deployed.
Early RPA Results are in
IHG prioritized their first RPA projects based on processes that were manually intensive, but also very transactional and rules based believing these were not only strong candidates for automation, but also with potentially significant ROI. The first processes identified for automation related to hotel inquiries and travel agent commissions that are very tedious processes of going through thousands of lines of data and cross-checking against a number of variables. But at the same time, these are important because they involve large sums of money and impact a key revenue stream.
So far IHG has been able to achieve:
Reduced time and effort, which then helps IHG free up and repurpose capacity to focus on much more value add activities – such as customer contact and follow up and resolving outstanding issues.

77 percent reduction in time: The new RPA process for travel agency inquires has reduced one process to about 7 days that previously took 20 to 30 days to respond;
150 percent increase in capacity: In another process that was automated, IHG reduced time of processes from 4 minutes to just over 1 minute and went from about 280 transaction a day to doing nearly 700 transactions per-day.

IHG noted an unexpected benefit was that with the improved accuracy and additional data collected, the business has new information it can report and analyze. This is enabling them to more effectively get to the root cause of errors and reduce discrepancies down the road.
In addition, IHG can provide agencies with more detail information around the commissions and the issues and the trends that they experience – delivering a benefit to their business partners and making it easier for agencies to work with IHG.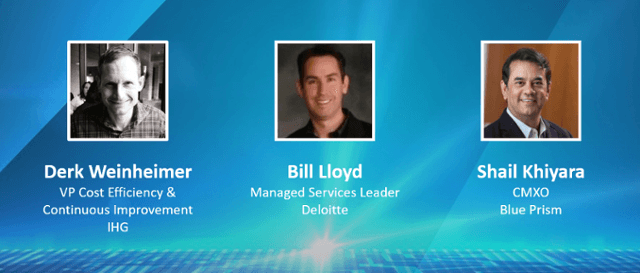 Q&A

There was no shortage of interest in how and why IHG selected and RPA vendor and questions related to scalability and process selection.
Does it come down to number of hours or dollars saved?
The consensus from both Derk and Bill is that the ROI potential of RPA is very real, and that business needs to be all in. There is no dipping your toe in the water with RPA. Companies need to agree to go big because that's where the scale and the real value comes from.
"When you start to scale in the 10's and 20's of process automations scale really becomes a factor due to repeatability and centralization of the capabilities rather than managing very bespoke projects. No more deploying RPA in isolation."
Derk shared that developing a Center of Excellence (CoE) is the best approach to achieving scale. That's because it ensures that there is the right governance and control in place to give confidence that business partners are focusing on the right areas and priorities. It also delivers the comprehensive support and capabilities, whether that's in-house or third-party, for the RPA efforts to be successful.
One of the last questions posed dealt with change management and making sure everyone is onboard with RPA driving a true digital transformation. Derk flagged the employee sensitivities going into these programs, and highlighted that once people understood that it really frees them up to do higher value and more interesting work, they absolutely embrace the technology.
RPA is a long-term initiative for IHG.
"It's a new way of working that we are establishing. It's a lever, a new tool in the toolbox. We see this as an ongoing part of our workforce now"
Click here to view the recording and answers to many other questions.