The first paper from Knowledge Capital Partners (KCP) dealt with how Blue Prism clients achieved their successful RPA deployments from taking a disciplined, strategic approach. In this report, KCP analyzes their approach to the key selection challenges facing buyers in three areas: sourcing model, platform selection, and value measurement. This second paper shows users how to "Start Right". This means taking an automation approach that: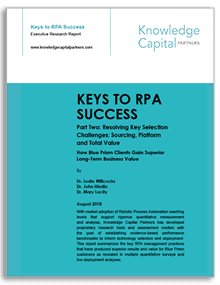 Recognizes the major risks in choosing from the sourcing options available. While Blue Prism customers prefer insourcing, most also use consultants or advisors as partners.
Expresses a clear preference for an RPA platform that is scalable, and that provides a secure, enterprise-grade solution. Speed to adopt and ease of use are more secondary, with lower priority also given to reusability, auditability, multi-skilling capability, and cost.
Improves their analysis of business value by calculating total cost of ownership and identifying short- and longer-term business benefits.
Helps organizations strategize by adopting the concept of Total Value of Ownership (TVO), moving managers from a low cost/quick win mentality to treating automation technologies as long-term strategic investments, and part of a larger digital business value program.