With global organizations across every industry dealing with accelerated and unanticipated change, and operating with increasingly constrained and distributed resources, there will be no reverting to the older pre-COVID operating models. Organizations need to move forward in an agile fashion, working innovatively to re-think and reconfigure how work across the enterprise can be done much faster, smarter, more efficiently, cohesively and productively, with less.
A common problem that large enterprises face today are service constraints due to disjointed systems, disparate data, and manual workflows. This means breaking down the old operational silos and those that fail to act fast, before they drive these enterprises to become slow or no-growth organizations.
Automating work better
Organizations are investing heavily in enterprise software that can improve processes and streamline workflows. This helps them increase efficiencies while reducing costs and increasing revenue while delivering outstanding experiences that customers expect. We're talking about modern, service management solutions, powered by, intelligent automation that is highly secure, scalable across the enterprise.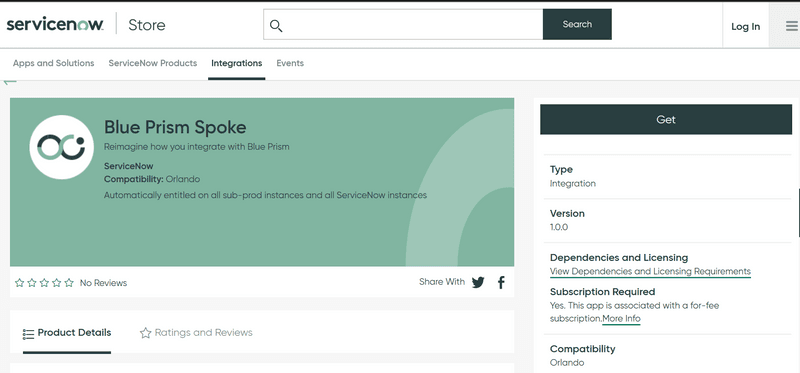 Blue Prism and ServiceNow, are market leaders with a shared purpose – to make work, much more meaningful for people and drive improved business outcomes through automation. We've joined forces to enable organizations to deliver more intelligent digital workflows - because behind every great stakeholder or customer experience, is a great process workflow.
ServiceNow offers an integrated and connected set of applications that allow businesses to improve organizational workflows and operations. The Now™ platform enables the building, testing and publishing of business applications that manage processes and streamline workflows across every line of business, including finances, HR, IT and security.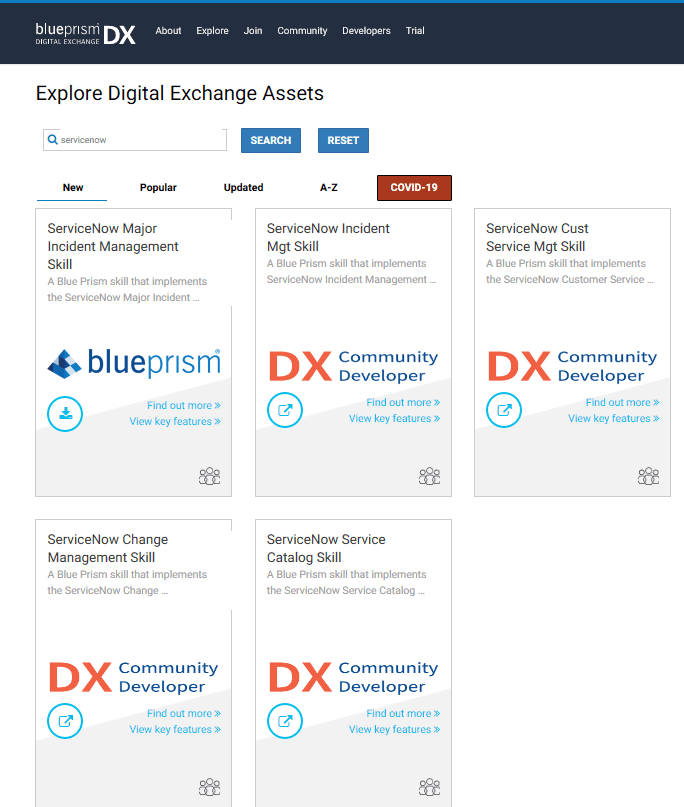 These ServiceNow capabilities are being combined with Blue Prism intelligent automation, a platform that runs a smart, multi-skilled, hyper productive, self-organizing digital workforce --published on the ServiceNow Store and the Blue Prism Digital Exchange as shown. Blue Prism's digital workforce is one that can perform evermore complex business process activities like humans across front, middle and back offices – with total integrity, up to 150 times faster, with zero errors, 24x7 – without breaks, distractions or bias and with effortless scalability.
Key Outcomes
Together, ServiceNow and Blue Prism enable organizations to control costs, centralize data across the enterprise, seamlessly connect apps and handle increased workflows with speed and accuracy. Business procedures can be easily tracked and managed to accelerate decision making and services for any industry saving time and money - while increasing process efficiency. Organizations can also drive better customer experiences by consolidating tools in a single platform, streamlining operations and eliminating costly, time consuming, error-prone activities. Here's some use case examples of what can be achieved:
Contact center/ service desk automation - customer experiences are improved by adding capacity to handle increasing workloads, decreasing hold time - while empowering agents and controlling costs.
Service apps for COVID-19 – these can be swiftly connected to applications within the enterprise, to support workflows and seamlessly execute business processes in response to COVID-19.
Pre-fetch 360-degree customer/ employee view - inquiries can be anticipated and addressed more efficiently to increase customer satisfaction - while reducing costs.
Virtual agent - customer requests can be managed by virtual agents to avoid escalation to human agents.
Automated incident handling - customer service can be improved by increasing automation and efficiencies in customer incident handling – and delivered at a lower cost.
Order processing & fulfilment – the speed and efficiency of operations can be increased
by using digital workers to automate order processing, updating and fulfilment.
Final Thoughts
Today, every business leader knows that the way to drive the outcomes that customers expect, and the business needs, is to get from now to the future much faster at lower cost and higher efficiency. ServiceNow and Blue Prism enable organizations to experience this with an enterprise-ready, cloud-capable, intelligent, end-to-end and scalable automation integration platform that delivers major costs reductions, increased speed and efficiency of operations.