Serve citizens better
The public sector is under enormous pressure to provide reliable services to citizens. Government agencies must find ways to improve the citizen experience, while also lower operating costs.
Learn How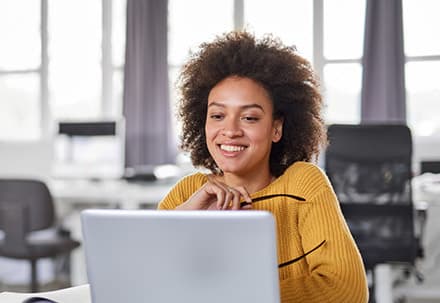 Citizen-centric intelligent automation
Public sector executives live and breathe a long list of challenges every single day. Budgets are tighter, while workloads just get bigger, and workforces continue to shrink. Still, citizens want to engage with government agencies the same safe and easy way they shop online for groceries. Achieving this means doing more with less, while staying fully compliant with regulations. With gaps in digital readiness fully exposed by the pandemic, government agencies must find ways to innovate the future of citizen services.
Blue Prism helps public sector bodies find new ways to keep pace with evolving missions and citizen expectations, even with aging technology. We bridge the gap between legacy systems and modern cloud, intelligent automation and AI to deliver business transformation that complies with key governance requirements for auditability, security and compliance.
SKDC processes critical housing applications fast with intelligent automation
Learn how this local government authority is modernizing its organization to meet the needs of its most vulnerable residents.
Learn More
More Case Studies
What's Driving Change for the Public Sector?
Where Does Blue Prism Fit In?
Select A Solution Area
Citizen Experience
Citizen Experience
Shared Services
Social Services
Transform the citizen experience
Fast and accurate customer service in the public sector is ideal but hard to attain. An exceptionally good citizen experience can help government agencies meet their goals, save money, and improve employee satisfaction. Provide automated, one-on-one responses to inquiries, matching citizens to the benefits that best meet their needs. Leverage AI, machine learning and other new and innovative technologies to reduce manual work and provide more support to citizens on the front line.
Data security
Ensure that data shared across agencies is secure and highly accurate. Blue Prism is also available as a FedRAMP compliant cloud service on Microsoft Azure.
Learn More
New account and account renewals
Automate front-end processes using digital workers to capture initial data and prefill requests for self-service citizen registration and unified account management.
Efficient public service matching
Gather and cross-reference data to match citizens to the right services for personalized service plans and next best actions.
Automatic invoicing
Automatically send invoices to the appropriate contacts. Improve citizen satisfaction with predictable billing patterns and realize more revenues on time.
Contact center transformation
Intelligent automation in the contact center can help improve customer satisfaction scores while increasing employee retention and providing a competitive advantage by reducing operating costs and greatly improving the digital citizen experience.
Transform shared services
Increase efficiency, accuracy and reliability through the automation of high-volume, high-value back-office processes. Intelligent automation creates efficiencies by enabling your existing workforce to add more value to the business. Automating back-office processes also helps to standardize processes across complex operating models to reduce costs and create a stable base from which to create new products and services.
Financial data tracking
Track month-end closes or monthly review checklists to provide high-level overviews of revenues and expenses.
Accounts payable & receivable
Automatically extract and validate invoice data, match invoices with purchase orders and proof-of-delivery receipts, and post approved invoices directly into the ERP system. Automate order processing and fulfillment, invoicing, and cash allocation.
Cybersecurity & incident management
Automate penetration testing, and anti-virus and certificate management. Triage incoming tickets and route them to the right queue. Resolve common issues such as password resets using an IT approved workflow.
Employee onboarding
Provide login credentials and access to resources for new employees automatically. Process applicant records from initial application submission through completion of the new hire process.
Recruitment process improvement
Use digital workers, along with AI, to gather sentiment analysis and conduct faster, more accurate background and social media research.
Compensation management
Automate compensation tasks such as payroll changes, data validation, reconciliation and more to ensure accuracy and compliance.
Transform social services
Up to 80% of social care is made up of administrative tasks. Blue Prism enables data to be shared across multiple systems without the need for complex and expensive integration projects. Automate administrative, repetitive tasks such as processing transactions or integrating care provider data to derive alerts and manage direct payments quickly and accurately. Free up employee time to take on higher value client-facing tasks to improve outcomes.
Data entry across multiple systems
Intelligent automation makes it possible to collate notes and files from multiple systems and present information chronologically. Automated population and delivery of correspondence and the generation of notifications to care practitioners. Check completed sign-off levels, compile all care requirements and submit information to brokerage systems.
Automate and manage bookings
Intelligent automation enables digital workers to collect initial triage questions, determine appropriate team members, cross-check calendars, identify appointment slots, confirm booking, send SMS on the day of appointment, and manage changes.
Reconciliation
Reconcile between social care, case management, finance and brokerage systems against a set of detailed rules, which increases conformance, improves accuracy, and reduces administrative costs and risks of financial errors.
Hospital discharge
Interrogate healthcare systems for discharge information and create new care records or update existing social care records. Identify an onduty practitioner, allocate cases to queue, and schedule meetings.
Recruitment process improvement
Use digital workers, along with AI, to gather sentiment analysis and conduct faster, more accurate background and social media research.