Just Add Imagination
Some of our customer's most successful business outcomes began with a dose of imagination and the right intelligent automation technologies to realize their biggest goals. Learn how a Blue Prism digital workforce can help you do the same.
Celebrating our Excellence Award Winners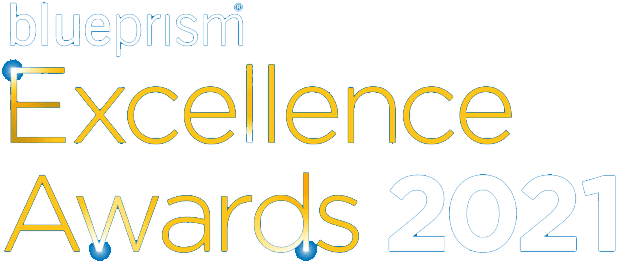 Each year, we recognize customers who've achieved great success with intelligent automation. Read on to learn more about our Customer Excellence Awards.
Best use of the Robotic Operating Model
Innovation Excellence Award

Best Newcomer Award
Business Value Driver Award
Strategic Transformation Award
Blue Prism for Good Award
Read Our Latest Customer Stories
Blue Prism customers are unlocking the true value of automation by returning hours back to the business and freeing people to focus on more meaningful work.
What Our Customers Are Saying About Blue Prism
We've got to empower our patients to take ownership of their own healthcare. We have an army of nurses who call people to remind them to take their medicine, but data shows that patients prefer a digital nudge instead of an in-person reminder. This is an incredible opportunity—for automation and cognitive technology to significantly change patient behavior and transform healthcare at an affordable price.
Thomas Bowenwright VP Digital Innovation at Baylor Scott and White Health
We're looking to identify processes from across the broader CFO organization and it's exciting, because I think a lot of people traditionally tend to think that RPA is only a good fit for finance back office type processes. That's not the case, and we have this time round selected processes from functions such as facilities, from IT, from treasury, and procure to pay. And from different regions. The reason we've chosen different functions and regions is to ensure we can get the best bang for our buck in terms of trying to run automations 24/7.
James Sheehy Director of Business Transformation and Projects, Gilead Sciences
RPA is perfectly suited for injecting machine learning into business processes. When customers embark on the journey of using RPA they have taken a leap towards [intelligent] automation. I see that it's a perfect vehicle for customers to adopt machine learning into their operations and business processes.
Naresh Venkat AI Business Development and Strategic Partnerships, Google Cloud
One of our key principles, in quite a complex organization, is trying to keep things simple. It was our desire to have one single platform, with a consistent approach, that we would use to do robotic process automation for the group. That would then help with scalability and reusability as we expand into hundreds of virtual workers. That is why we chose Blue Prism as our software choice moving forward.
Gerald Pullen Head of Continuous Improvement & RPA from Lloyds Banking Group
Maximizing customer satisfaction is one of our primary business goals. Through deploying Blue Prism's solution, we have been able to automate customer-facing processes fast, improving levels of customer satisfaction. I have been very impressed with the value we have derived from Blue Prism, both in terms of its software and supporting professional services.
Carol Brown Head of Insurance Customer Services, The Very Group
Why wouldn't you want to reduce the time that your colleagues spend on mundane and repetitive tasks – freeing up their valuable time and knowledge to deliver more value –add to the business?
Dominic Howson Supply Chain Planning and IS Director. Hovis