Empowering Citizen Developers
The Blue Prism Robotic Operating Model (ROM), actively used by Blue Prism clients for over a decade, prescribes the empowering and educating of individuals (Citizen Developers) across the organization so that they can create new automations. In alignment with the ROM, there are four core pillars that need to be in place to ensure successful citizen-led development, and this blog will cover the first two.
Establishing a Citizen-Led Development Model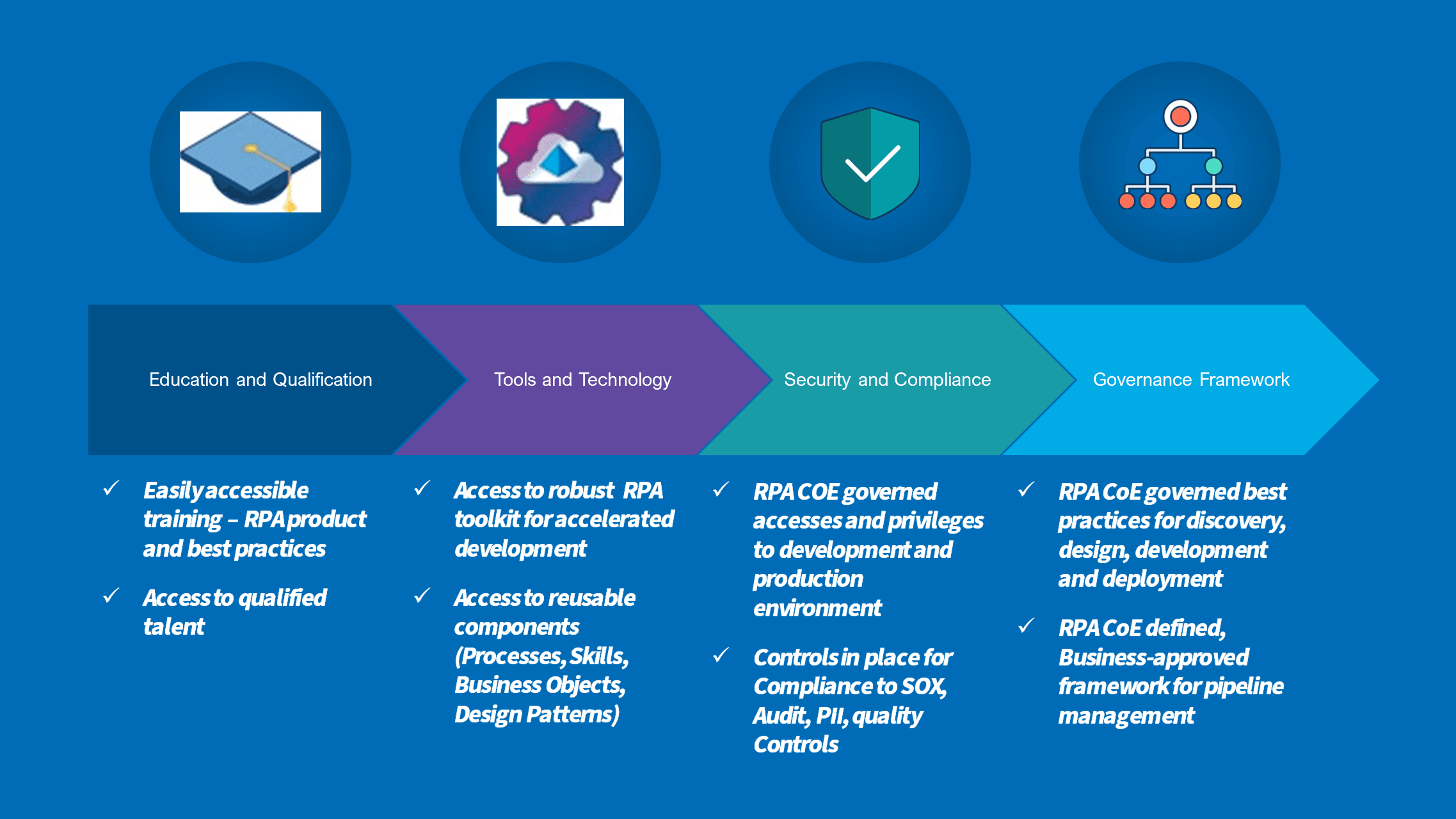 Education and Qualification
Citizen Developers tend to thrive in self-paced, online training environments, which aligns well with the resources provided by Blue Prism. The Blue Prism Portal, which requires registration, is the starting point for access to structured training, tutorials, guides, templates, software downloads, FAQs, support, etc. From there, Blue Prism University becomes the primary landing spot for training and even certifications, if desired. The goal of Blue Prism University is to offer everyone the opportunity, resources, and support to elevate their success as a Citizen Developer. It provides on-demand, online, self-paced RPA training at no cost. If more hands-on or instructor-led training is desired, there are additional online and classroom training options provided by many of our partners.
Blue Prism offers Citizen Developers many ways to try and learn our software. Blue Prism Learning Edition is fully functional and includes a simple installer designed to get Blue Prism up and running within a few minutes. By default, it also enables a personal run-time resource for Rapid Desktop Automation (RDA). Blue Prism has never charged for non-production environments, so companies can have an unlimited number of Citizen Developers building and testing Blue Prism automations without a license fee.
Finally, Citizen Developers can share and receive support in Blue Prism Communities. Thousands of users around the world interact with each other and Blue Prism in these online communities to test out new ideas, solicit help, and explore the art of the possible with intelligent automation.

Tools and Technology
It is the role of the CoE to develop the initial toolkit for accelerated development by Citizen Developers across the organization. Furthermore, the CoE will continually make improvements to the toolkit and distribute those to the developer community.
Blue Prism's approach of separating Visual Business Objects (application hooks) from Processes (business process logic) allows companies to provide a centralized repository of re-usable application interactions (objects) that meet IT technical standards so that Citizen Developers can focus on designing processes that meet their business needs. In addition, object creation is improved by the expertise that comes from crowd-sourcing the object design to those that live in a particular application. Business-focused Citizen Developers can drag-and-drop approved objects to rapidly build their automation, with confidence that these components have been built according to their IT technical standards.
To support the Citizen Developer's need for intelligent skills in automating complex processes, Blue Prism has over 100 best-of-breed technology alliance program (TAP) partners who provide advanced capabilities such as OCR, machine learning, natural language processing and computer vision. Furthermore, we've made it easy to connect to those technologies via the Digital Exchange (DX). The DX has quickly become the Citizen Developer's best friend.
Also, Blue Prism has released some new native capabilities over the last six months that will be very helpful to the Citizen Developer community. One example is Blue Prism Capture, a record tool which utilizes computer vision and desktop event mining. Capture allows Citizen Developers and subject matter experts to document processes and output the skeleton of an automation, which significantly simplifies and accelerates the development cycle.
For more helpful information on Citizen Development, check out this episode of the Automation Insider.