Choosing the right Blue Prism automation solution for your business is key
In the last 18 months, we've launched a dozen new products. These solutions span the automation lifecycle — discover, design, deliver — and complement our existing portfolio so you can do more, faster and smarter.
Blue Prism's Robotic Operating Model (ROMTM) underpins our product strategy. Developed with over a decade of deploying Blue Prism, the ROM outlines seven foundations to maximize the value of your automation program(s) at scale. The ROM model works together with our products to ensure alignment across people, processes and technology.
Deciding to automate processes is only half the story
Knowing which products to use and where, along with integration options, is critical to building a continuous, healthy pipeline of automation candidates for your business. With efficiency and productivity being two of the biggest drivers for automation, our center of excellence (COE), comprised of a team of automation experts, focuses on robust and reusable design. The COE is critical for a successful intelligent automation deployment, encouraging buy-in, instilling best practices and demonstrating tangible benefit back to the business.
Understanding the automation lifecycle – process analysts, owners and developers
As you'll learn below, our solutions are interconnected to achieve optimal results for your business.
Begin collaboration between the process analyst and process owner with our Process Assessment Tool (PAT). This is particularly relevant if you aren't ready to make the jump to process mining with our Process Intelligence (PI) solution.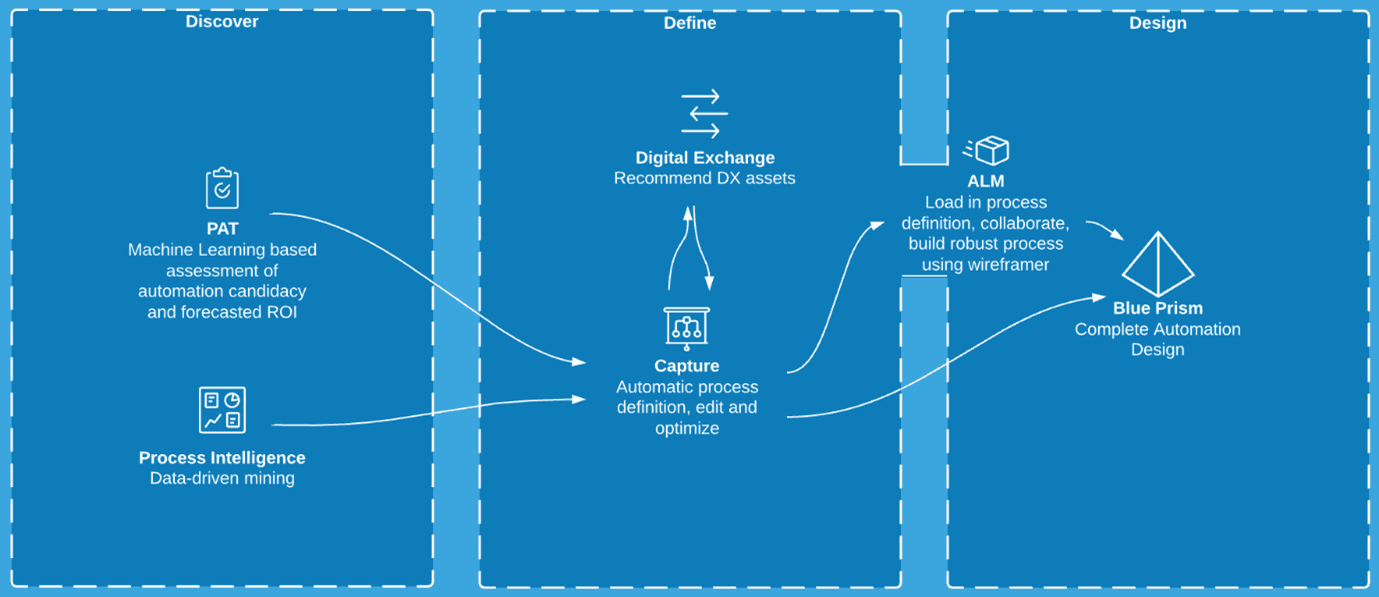 Once the Machine Learning recommendation on a strong automation candidate is received, the process owner records the as-is process using Capture.
The process analyst reviews the process in Capture with the process owner to ensure full context is understood and then exports the process into the Automation Lifecycle Management (ALM) suite.
From here, the defined process can be shared and reviewed with the COE via ALM's central collaboration feature.
The process is then exported into Wireframer, where the process developer creates a robust process and object design that's ready to be finalized in Blue Prism.
Using the Franchise model for the robotic process automation (RPA) team's success
How do you strike a balance between building robust automations and delivering automated processes quickly? For most medium to large enterprises, the Franchise model is the best way to structure the RPA team for success. Individual business functions can move as aggressively as needed, while knowledge and responsibility are distributed across the company.

We recommend PI for hands-off discovery and analysis. This allows you to quickly establish a pipeline of processes for your central automation team to build.
Next, export the task-mining output into Capture for editing and optimization. There are two options for the next step. If you're a business user, export the process from Capture straight into Blue Prism. This export contains object and application modeller data, which saves significant time during the build process. The process may then be handed off to your expert Blue Prism users for completion.

Alternatively, at the point of Capture export, an experienced RPA developer may export the defined process into ALM and design a robust automation using Wireframer.
What if I want to focus on empowering citizen developers?
When you're aiming for speedy delivery at scale, removing obstacles that increase complexity in building automations is your top priority. Your central automation team focuses more on governance, standards and oversight, instead of designing the automations themselves.
The optimal solution lies in initially using PI for discovery and then exporting the process into Capture, allowing for quick and easy process editing. From here, you can export directly to Blue Prism by automatically creating a process with object and application modeller data. This removes an enormous amount of build complexity for your citizen developers – saving time and effort.
What's in store for the future?
Automation is about modernizing how your business operates. We're shaping the future of work by developing more sophisticated ways to transform entire business functions rather than isolated processes. One initiative underway is secure and auditable integrations. Underpinned by a common data model, these integrations include a customizable user experience. Stay tuned as we continue to shape this incredibly exciting space.

Already an Existing Customer?
View lifecycle-related updates within our revamped product.
Learn More